10 Reasons to Go Solar
1. Go Solar to Save Money
One of the main advantages of going solar is the savings! Clean Energy Technology Center estimates that installing solar panels on your home can save you an average of $40 to $191 per month during the first year. Additionally, the cost of solar panels continues to drop as the technology advances and more consumers embrace the energy efficiency of solar power.

2. Go Solar to Boost Your Home's Value
Another advantage of adding solar energy to your home is an increase in home value. Residential solar energy panels can add up to $15,000 to the value of your home according to a recent study by the U.S. Department of Energy's Lawrence Berkley Laboratory.
3. Go Solar to Sell Your Home More Quickly
Homes with solar panels installed sold more quickly (and at higher prices) than homes without solar panels, reports a study by the National Renewable Energy Lab.
4. Go Solar to Lock in Low Energy Costs
Once you've switched to solar energy, you also are released from the volatility of rising electricity costs from traditional energy sources such as coal, oil, and natural gas — locking in low costs is a definite advantage of solar energy.
5. Go Solar to Make Money on Energy
If you've installed a solar power system that's generating more electricity than you are using, in many cases, you can sell that energy back to the utility company in a process called net metering. This allows for maximum energy efficiency. Contact your local utility company for more information.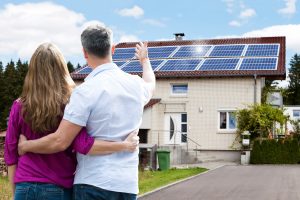 6. Go Solar to Reduce Pollution
Traditional power generation pollutes the air and is a leading cause of U.S. global warming emissions. Solar energy doesn't emit any pollution during energy production or use.
7. Go Solar to Save Time
There's virtually no maintenance associated with solar power systems, and solar power systems can last up to 30 years. Once your solar panels are installed, they create power and savings for homeowners with almost no added costs.
8. Go Solar to Access Energy Anywhere
One advantage of solar power is that it can be used anywhere that the sun shines. For astronauts, this means space; for the rest of us, it means locations where the power grid is unavailable, unreliable, or prohibitively expensive to access.
9. Go Solar to Access Tax Credits and Government Incentives
The U.S. Department of Energy currently offers a rebate on solar panel installation, and many local and state governments also have their own programs.
10. Go Solar to Promote Green Energy
Many people like to spend their money in a way that reflects their values. Homeowners who choose solar energy are supporting an industry that aims to reduce the United States' dependence on fossil fuels. If you are interested in finding out more about the energy efficiency of solar services, then start by getting a free solar quote from us!